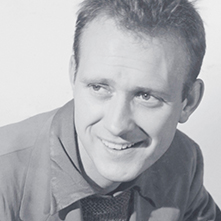 Ralph Rapson
Ralph Rapson was more than a groundbreaking midcentury architect. While at Cranbook Academy in the late 30s, the budding designer took advantage of the school's open studio system to experiment with furniture design using plywood, metal, and fabrics—often with the likes of Harry Bertoia, Charles Eames, and Eero Saarinen.
He applied his remarkable drawing skills to effectively express both the functionality and comfort of his furniture designs; many of them playfully depicting fashionably clad people relaxing in vogue.
Rapson's drawings clearly conveyed that he wasn't merely creating aesthetically pleasing sculptural pieces (although they certainly were) but also beautiful forms designed for utility and a new lifestyle.